Our People
Approachable, friendly and helpful staff
Our friendly TLC staff can be contacted on 1800 801 200 from 9:00am to 4:45pm Monday - Friday. At TLC you speak to real people and you can talk to them about any of the following:
Place an order
Arrange special delivery instructions
Organise a regular courtesy call in case you forget to order
Purchase a gift certificate for a relative or friend
Update your personal details
Order your FREE 3 course birthday meal
Ask any questions about the extensive TLC menu or service
Call TLC Freecall on 1800 801 200. We are looking forward to hearing from you.
Talented chefs in state of the art facilities
The talented TLC chefs are dedicated to providing the highest standard of home delivered meals.
The recently constructed cooking facility in Marrickville has the latest freezers, chillers and state-of-the-art kitchen equipment for the exclusive use of Tender Loving Cuisine's premium meals.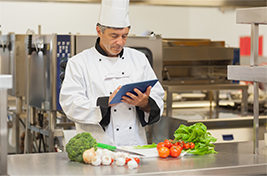 See what our customers have to say:

...I would like to make a comment on how tasty and delicious your meals are. I am not an elderly person nor am I ill, but I work long hours throughout the week and do not have a lot of time to cook. I am a type 2 diabetic, but I would just like to say keep up the good work, as the meals are fantastic. Thank you....
more