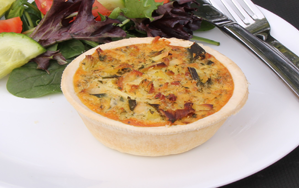 Bacon Potato & Leek Quiche
Such a tasty combination. Enjoy this quiche any time during the day.
Leeks are low in sodium and have almost no saturated fat or cholesterol. They are a good source of dietary fiber, vitamin B6, iron and magnesium.
Ingredients
Pastry [Wheat Flour, Vegetable Oil (Antioxidant 307b, Soy)), Shortening [Vegetable Oil, Emulsifiers (471, Soy Lecithin)), Natural Colour (160a), Flour Treatment Agent (920), Whey Powder, Skim Milk Powder, Dextrose, Salt, Acidity Regulator (E330), Methyl Cellulose (461)], Potato (18%), Eggs, Water, Bacon (7%) [Pork, Salt, Dextrose, Mineral Salts (451, 452), Antioxidant (316), Sodium Nitrite (250), Honey Powder, Emulsifier (433)], Tasty Cheese, Leek (6%), Maize Starch, Thickened Cream, Milk, Canola Oil, Onions, Butter, Salt, Vegetable Stock Powder, Chicken Stock, Parsley Mixed Herbs [Oregano, Marjoram, Thyme, Sage], White Pepper. CONTAINS GLUTEN, MILK, EGGS, SOY. MAY CONTAIN PEANUTS, TREE NUTS, SESAME SEEDS & SULPHITES.
Nutritional Details
Regular Size 200g Per Serve
Nutritional Details
Average Quantity
per Serving
Average Quantity
per 100g
Energy:
1834kj
917kJ
(440Cal)
(220Cal)
Protein:
14.4g
7.2g
Fat, Total:
25.4g
12.7g
--Saturated:
12.6g
6.3g
Carbohydrates:
37g
18.5g
--Sugars:
4g
2g
Dietary Fibre:
1.2g
0.6g
Folate:
2ug (1% RDI)
1ug
Sodium:
668mg
334mg
Disclaimer:
Nutrition analysis is prepared using our FOODWORKS© software system. Dinners carrying the Heart Friendly Tick have undergone laboratory testing and results for Saturated Fat, Trans Fat, Sodium, Energy, Protein and Fibre or Vegetable content are guaranteed to comply with the criteria. Clients and Health Professionals should use all other calculations as a guide only when recommending or choosing suitable dinners.