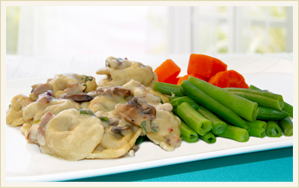 Beef Tortellini with Boscaiola Sauce
Tasty beef tortellini with a creamy sauce of mushrooms and bacon, served with green beans and carrot rounds.
Mushrooms contain many vital vitamins and minerals such as niacin and other B vitamins. Since certain B vitamins are found in animal tissue and not plants, and most mushrooms have a high protein content, they are a good supplement for vegetarians.
Ingredients
Tortellini Boscaiola (75%) [(Durum Semolina, Ricotta, Water, Breadcrumbs, Beef, Carrots, Eggs, Celery, Hydrolysed Vegetable Protein, Beef Stock, Canola Oil, Cheese Powder, Salt, Pepper), Water, Thickened Cream, Bacon, Mushrooms, Full Cream Milk Powder, Margarine, Plain Flour, Shallots, Salt, Pepper, Vegetable Stock, Garlic, Onions, Cloves, Bay Leaves, Parmesan Cheese, Nutmeg], Carrots, Beans. CONTAINS GLUTEN, EGGS, MILK & MILK PRODUCTS. MAY CONTAIN TRACES OF PEANUTS, TREE NUTS, FISH & CRUSTACEANS.
Nutritional Details
Regular Size 400g Per Serve
Nutritional Details
Average Quantity
per Serving
Average Quantity
per 100g
Energy:
1996kj
499kJ
(479Cal)
(120Cal)
Protein:
23.2g
5.8g
Fat, Total:
18g
4.5g
--Saturated:
11.6g
2.9g
Carbohydrates:
60g
15g
--Sugars:
9.2g
2.3g
Dietary Fibre:
9.2g
2.3g
Folate:
54ug (27% RDI)
13.5ug
Sodium:
768mg
192mg
Potassium:
360mg
90mg
Phosphorus:
285mg (29% RDI)
71mg
Disclaimer:
Nutrition analysis is prepared using our FOODWORKS© software system. Dinners carrying the Heart Friendly Tick have undergone laboratory testing and results for Saturated Fat, Trans Fat, Sodium, Energy, Protein and Fibre or Vegetable content are guaranteed to comply with the criteria. Clients and Health Professionals should use all other calculations as a guide only when recommending or choosing suitable dinners.