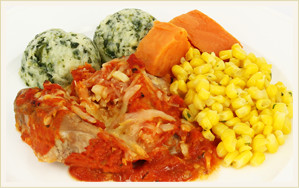 Chicken Parmigiana
Chicken topped with tomato sauce and mozzarella cheese, served with potato and spinach mash, sweet potato and corn.
This traditional Italian dish is surprisingly low in calories and packed with fibre and lean protein. Not only is this meal low in sodium it is also a heart friendly dish packed full of vitamins and minerals.
Ingredients
Chicken Parmigiana (43%) [Chicken (25%), Sauce (Tomatoes, Onions, Olive Oil, Garlic, Basil, Oregano), Mozzarella Cheese, Parmesan Cheese], Potato Mash [Potatoes, Spinach, Skim Milk, Tapioca, Salt, Pepper, Nutmeg], Sweet Potatoes, Corn, Parsley CONTAINS: MILK. MAY CONTAIN PEANUTS, TREE NUTS. WE ADVISE CAUTION WHEN CONSUMING AS MAY CONTAIN BONES/BONE FRAGMENTS.
Nutritional Details
Regular Size 400g Per Serve
Nutritional Details
Average Quantity
per Serving
Average Quantity
per 100g
Energy:
1764kj
441kJ
(423Cal)
(106Cal)
Protein:
31.6g
7.9g
--Gluten:
Nil Detected
Nil Detected
Fat, Total:
15.6g
3.9g
--Saturated:
5.2g
1.3g
Carbohydrates:
34.8g
8.7g
--Sugars:
8.4g
2.1g
Dietary Fibre:
6.4g
1.6g
Folate:
89.6ug (45% RDI)
22.4ug
Sodium:
252mg
63mg
Potassium:
1056mg
264mg
Phosphorus:
404mg (41% RDI)
101mg
Disclaimer:
Nutrition analysis is prepared using our FOODWORKS© software system. Dinners carrying the Heart Friendly Tick have undergone laboratory testing and results for Saturated Fat, Trans Fat, Sodium, Energy, Protein and Fibre or Vegetable content are guaranteed to comply with the criteria. Clients and Health Professionals should use all other calculations as a guide only when recommending or choosing suitable dinners.