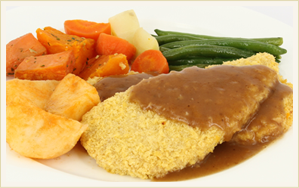 Chicken Schnitzel
Tasty crumbed chicken served with seasonal baked vegetables and gravy.
Baked vegetables are not only delicious but are loaded with health benefits. Cooking carrots increases the availability of the antioxidant carotenoids. Pumpkin flesh is a good source of vitamins A and C and contains antioxidants, folic acid and potassium. Pumpkins are also low in fat.
Ingredients
Chicken Schnitzel (36%) (Breast Meat, Water, Soy & Wheat Flour, Isolated Soy Protein, Breadcrumbs (Wheat flour, Water, Rye Flour, Humectant (422), Gluten, Yeast, Salt, Vinegar, Sugar, Canola Oil, Xanthan Gum (415), Malt Barley Flour, Antioxidant (300), Enzymes, Preservative (282), Colours (160a, 102, 110), Thiamine, Folate, Salt, Sugar, Flavour (Thermal Processing Flavour, Yeast Extract, Rapeseed Oil, Flavour Enhancers (627, 631), Vegetable Powder, Mineral Salt (508), Liquid Flavours, Spices, Herb), Gravy (Water, Thickeners (1442, 1422), Salt, Natural Flavour, Vegetable Powders, Colour (150d), Canola Oil, Vegetable Gum (466), Spice, Herbs, Tapioca), Potatoes, Sweet Potatoes, Beans, Pumpkin, Parsnip, Oil, Parsley, Salt, Pepper, Paprika. CONTAINS WHEAT, RYE, BARLEY, GLUTEN, SOY. MAY CONTAIN PEANUTS, TREE NUTS. WE ADVISE CAUTION WHEN CONSUMING AS MAY CONTAIN BONES/BONE FRAGMENTS. Vegetable varieties are subject to seasonal changes and inclusions may vary with each batch.
Nutritional Details
Regular Size 390g Per Serve
Nutritional Details
Average Quantity
per Serving
Average Quantity
per 100g
Energy:
1814kj
465kJ
(435Cal)
(112Cal)
Protein:
33.9g
8.7g
Fat, Total:
12.5g
3.2g
--Saturated:
3.1g
0.8g
Carbohydrates:
44.1g
11.3g
--Sugars:
7.4g
1.9g
Dietary Fibre:
5.5g
1.4g
Folate:
69.8ug (35% RDI)
17.9ug
Sodium:
1502mg
385mg
Potassium:
1264mg
324mg
Phosphorus:
507mg (51% RDI)
130mg
Disclaimer:
Nutrition analysis is prepared using our FOODWORKS© software system. Dinners carrying the Heart Friendly Tick have undergone laboratory testing and results for Saturated Fat, Trans Fat, Sodium, Energy, Protein and Fibre or Vegetable content are guaranteed to comply with the criteria. Clients and Health Professionals should use all other calculations as a guide only when recommending or choosing suitable dinners.