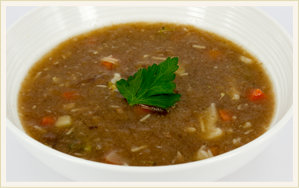 Hearty Vegetable Soup
Tempting home style broth simmered with ham hock, vegetable pieces such as potato, carrots, red kidney beans, pumpkin, zucchini and spinach.
Kidney beans are a very good source of B Vitamins, dietary fibre, copper and iron. Copper and iron are essential for new blood cell formation.
Ingredients
Water, Tomatoes (7%), Kidney Beans (6%), broth (from ham bones), Potatoes (4%), Pumpkin (3%), Cabbage (3%), Zucchini (3%), Onions (3%), Carrots (3%), Ham, Beans (2%), Celery (2%), Tapioca, Vegetable Stock Powder [Sea Salt, Maize Maltodextrin, Sugar, Yeast Extract, Rice Flour, Dehydrated Vegetables (Cabbage, Onion, Celery, Garlic, Spinach), Natural Vegetable Flavours, Disodium Guanylate and Inosinate, Canola Oil, Chilli], Garlic, Canola Oil, Salt, Turmeric, Pepper. MAY CONTAIN PEANUTS, TREE NUTS. WE ADVISE CAUTION WHEN CONSUMING AS MAY CONTAIN BONES/BONE FRAGMENTS.
Nutritional Details
Regular Size 300g Per Serve
Nutritional Details
Average Quantity
per Serving
Average Quantity
per 100g
Energy:
300kj
100kJ
(72Cal)
(24Cal)
Protein:
5.1g
1.7g
--Gluten:
Nil Detected
Nil Detected
Fat, Total:
1.2g
0.4g
--Saturated:
0.3g
0.1g
Carbohydrates:
9g
3g
--Sugars:
3g
1g
Dietary Fibre:
3g
1g
Folate:
18.6ug (9% RDI)
6.2ug
Sodium:
645mg
215mg
Potassium:
381mg
127mg
Phosphorus:
80mg (10% RDI)
27mg
Disclaimer:
Nutrition analysis is prepared using our FOODWORKS© software system. Dinners carrying the Heart Friendly Tick have undergone laboratory testing and results for Saturated Fat, Trans Fat, Sodium, Energy, Protein and Fibre or Vegetable content are guaranteed to comply with the criteria. Clients and Health Professionals should use all other calculations as a guide only when recommending or choosing suitable dinners.