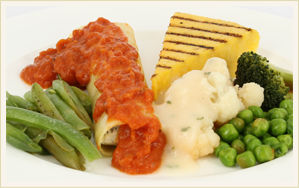 Spinach & Ricotta Cannelloni
Delicate pasta tube filled with spinach and ricotta cheese topped with a tomato and basil sauce. Served with a cornmeal (polenta) cake, cauliflower, peas, beans and broccoli.
Dark, leafy greens like spinach are important for skin, hair, and bone health. They also provide us with protein, iron, vitamins, and minerals. This vegetarian option is a heart pleaser as it is medically low in sodium and heart friendly.
Ingredients
Cannelloni (20%) [Ricotta Cheese (Whey Solids, Water, Milk, Salt, Food Acid (260)), Durum Wheat, Breadcrumbs (Wheat Flour, Bakers Yeast, Iodised Salt, Water), Spinach, Sugar, Garlic, Salt, Vegetable Stock, Shallots, Nutmeg, Pepper], Polenta Cake [Cornmeal, Olive Oil, Cheese, Parmesan Cheese, Pepper, Salt], Tomato Sauce (Tomatoes, Onions, Tapioca, Water, Celery, Olive Oil, Garlic, Basil, Salt, Pepper), White Sauce [Water, Milk, Tapioca, Canola Oil, Gluten Free Flour, Stock Powder (Sea Salt, Maize Maltodextrin, Rice Flour, Sugar, Yeast Extract, Natural Vegetable Flavours, Dehydrated Vegetables, Disodium Guanylate and Inosinate, Canola Oil, Caramelised Sugar Syrup) Salt, Pepper], Beans, Broccoli, Cauliflower, Peas. CONTAINS WHEAT, GLUTEN, MILK. MAY CONTAIN SOY, EGG, PEANUTS, TREE NUTS, FISH, CRUSTACEA.
Nutritional Details
Regular Size 400g Per Serve
Nutritional Details
Average Quantity
per Serving
Average Quantity
per 100g
Energy:
1424kj
356kJ
(341Cal)
(85Cal)
Protein:
14g
3.5g
Fat, Total:
14.4g
3.6g
--Saturated:
6g
1.5g
Carbohydrates:
34.8g
8.7g
--Sugars:
6.8g
1.7g
Dietary Fibre:
6.4g
1.6g
Folate:
62.4ug (31% RDI)
15.6ug
Sodium:
444mg
111mg
Potassium:
760mg
190mg
Phosphorus:
222mg (22% RDI)
55mg
Disclaimer:
Nutrition analysis is prepared using our FOODWORKS© software system. Dinners carrying the Heart Friendly Tick have undergone laboratory testing and results for Saturated Fat, Trans Fat, Sodium, Energy, Protein and Fibre or Vegetable content are guaranteed to comply with the criteria. Clients and Health Professionals should use all other calculations as a guide only when recommending or choosing suitable dinners.