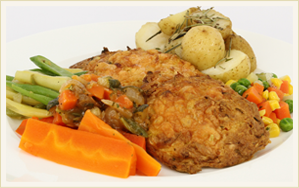 Fritters - Vegetable
Enjoy these fritters as a tasty meal or a lunch time treat. Served with diced potato, beans, carrots and a mushroom ragout.
Eggs are a rich source of Vitamin D which helps to protect our bones, preventing osteoporosis and rickets. Eggs are also filling and may help with weight management, as their high protein content helps us to feel fuller for longer.
Ingredients
Fritters (39%) [Eggs, Onions, Corn (41%), Carrots (12%), Mozzarella Cheese, Gluten Free Flour, Gluten Free Breadcrumbs, Peas (4%), Tarragon, Parsley, Garlic, Salt, Pepper], Potato Salad [Potatoes, Peas, Carrots, Celery, Corn, Olive Oil, Salt, Rosemary, Pepper], Beans, Carrots, Mushroom Ragout [Mushrooms, Onions, Zucchini, Carrots, Tomato Paste [Concentrated Tomato, Salt], Celery, Basil, Parsley, Garlic, Cornflour, Salt, Pepper, Oil] CONTAINS: EGGS, MILK PRODUCTS.
Nutritional Details
Regular Size 380g Per Serve
Nutritional Details
Average Quantity
per Serving
Average Quantity
per 100g
Energy:
1611kj
424kJ
(386Cal)
(102Cal)
Protein:
17.9g
4.7g
--Gluten:
Nil Detected
Nil Detected
Fat, Total:
9.1g
2.4g
--Saturated:
2.7g
0.7g
Carbohydrates:
57g
15g
--Sugars:
4.9g
1.3g
Dietary Fibre:
9.9g
2.6g
Folate:
96.5ug (51% RDI)
25.4ug
Sodium:
509mg
134mg
Potassium:
973mg
256mg
Phosphorus:
255mg (25% RDI)
67mg
Disclaimer:
Nutrition analysis is prepared using our FOODWORKS© software system. Dinners carrying the Heart Friendly Tick have undergone laboratory testing and results for Saturated Fat, Trans Fat, Sodium, Energy, Protein and Fibre or Vegetable content are guaranteed to comply with the criteria. Clients and Health Professionals should use all other calculations as a guide only when recommending or choosing suitable dinners.