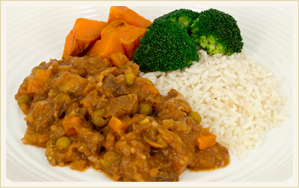 Indian Style Lamb Curry - Mild
Tender pieces of lamb in a delicious Indian spiced sauce with rice, broccoli and sweet potato.
Lamb is a protein powerhouse and is filled with B vitamins. It can provide much of our daily vitamin B12 requirement. Lamb meat also contains trace elements such as copper, manganese and selenium which form part of the enzymes, hormones and cells in our body.
Ingredients
Lamb Curry (51%) [Lamb (29%), Onions, Tomatoes, Zucchini, Peas, Carrots, Tapioca, Vinegar, Curry Powder (0.4%) (Coriander, Turmeric, Fenugreek, Cumin, Salt, Ginger, Garlic Powder, Chilli), Garlic, Oil, Salt, Ginger, Pepper, Mint, Basil], Rice, Broccoli, Sweet Potatoes. MAY CONTAIN PEANUTS, TREE NUTS. WE ADVISE CAUTION WHEN CONSUMING AS MAY CONTAIN BONES/BONE FRAGMENTS.
Nutritional Details
Regular Size 390g Per Serve
Nutritional Details
Average Quantity
per Serving
Average Quantity
per 100g
Energy:
1708kj
438kJ
(410Cal)
(105Cal)
Protein:
42.9g
11g
--Gluten:
Nil Detected
Nil Detected
Fat, Total:
7g
1.8g
--Saturated:
3.1g
0.8g
Carbohydrates:
39.8g
10.2g
--Sugars:
7.8g
2g
Dietary Fibre:
5.8g
1.5g
Folate:
72.9ug (36% RDI)
18.7ug
Sodium:
398mg
102mg
Potassium:
838mg
215mg
Phosphorus:
290mg (29% RDI)
74mg
Disclaimer:
Nutrition analysis is prepared using our FOODWORKS© software system. Dinners carrying the Heart Friendly Tick have undergone laboratory testing and results for Saturated Fat, Trans Fat, Sodium, Energy, Protein and Fibre or Vegetable content are guaranteed to comply with the criteria. Clients and Health Professionals should use all other calculations as a guide only when recommending or choosing suitable dinners.